Summer recreation definitely looks different this year in response to the current pandemic. But luckily, some outdoor fun and exercise is still possible for members of the Mequon Thiensville Little League/Mequon Heat club baseball and softball programs. The league has approximately 150 girls and boys enrolled for the summer. Currently they are enjoying games in the evenings at Rotary Park at 4100 Highland Road, and River Barn Park, located at 9808 N. Cedarburg Road.

Port Washington State Bank and Jimmy John's underwrote costs for new scoreboards at both park locations, providing more of a professional or high school level feel.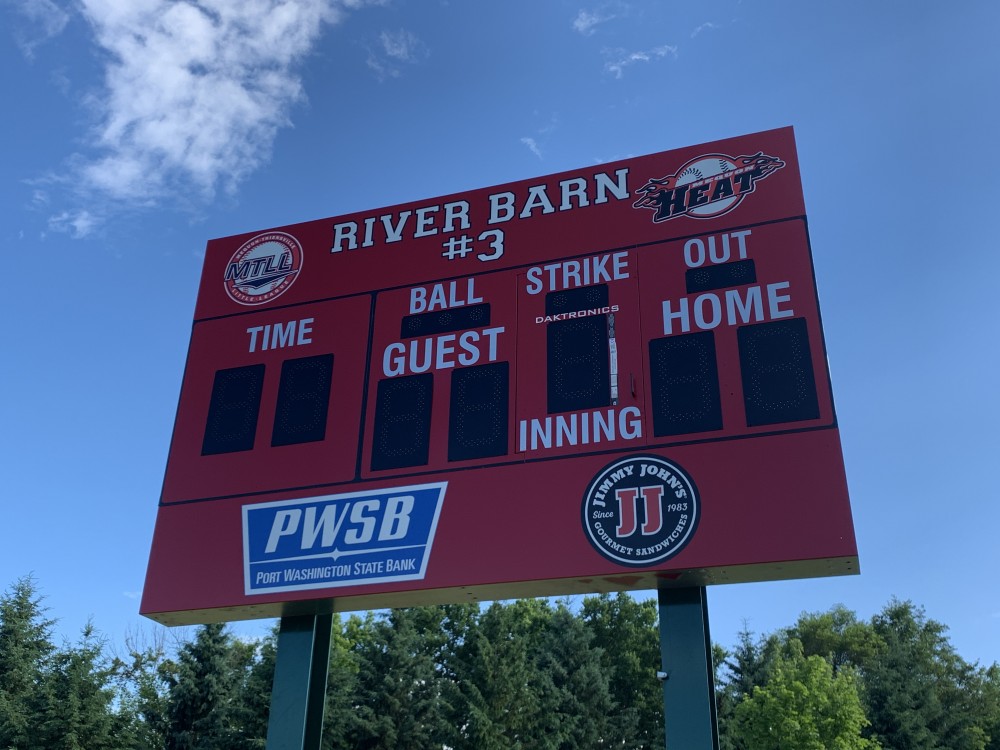 Howard Schumacher, a representative of the league, held a small ribbon cutting for the scoreboards before they were turned on this past Wednesday, June 25. "We are grateful to Port Washington State Bank and Jimmy John's for keeping their hearts and wallets open during a time when it's hard to ask much of our local businesses," Schumacher commented. "Having these new scoreboards adds some fun and excitement to what has otherwise been a challenging summer."

The league carefully weighed how to proceed for the summer and looked to local health authorities, local government and parents for their input. Ultimately, with kids being able to socially distance during the sport in the outdoors, the decision was made to proceed with the club baseball and softball programs with appropriate safeguards in place.

James Schowalter, President and Chief Operating Officer of Port Washington State Bank, was present at the ribbon cutting. "In watching the game tonight, it's easy to see how this organization is providing some much needed summer fun, and I'm glad we could contribute to it in some small way," Schowalter said.

For parents wanting to learn more about the league, visit www.tmyba.org.