Stop fraudsters in their tracks with Positive Pay.
Positive Pay features two services, Check Exceptions and ACH Blocks and Filters. These automated fraud detection tools are available to all business clients. In a nutshell, these services help prevent fraudulent withdrawals from your account.
Check Exceptions
Positive Pay's Check Exceptions tool puts you in the driver's seat of your own fraud protection. It matches the payee name, account number, check number and dollar amount of each check presented for payment against a list submitted by your business. All four components of the check must match exactly in order for a check to pass through automatically. When a check is presented that does not have a "match" in the file, it becomes an exception item. You will then receive notification regarding the exception item(s) and advise us on the action to be taken. After receiving that direction, we will then pay or return the check on your behalf.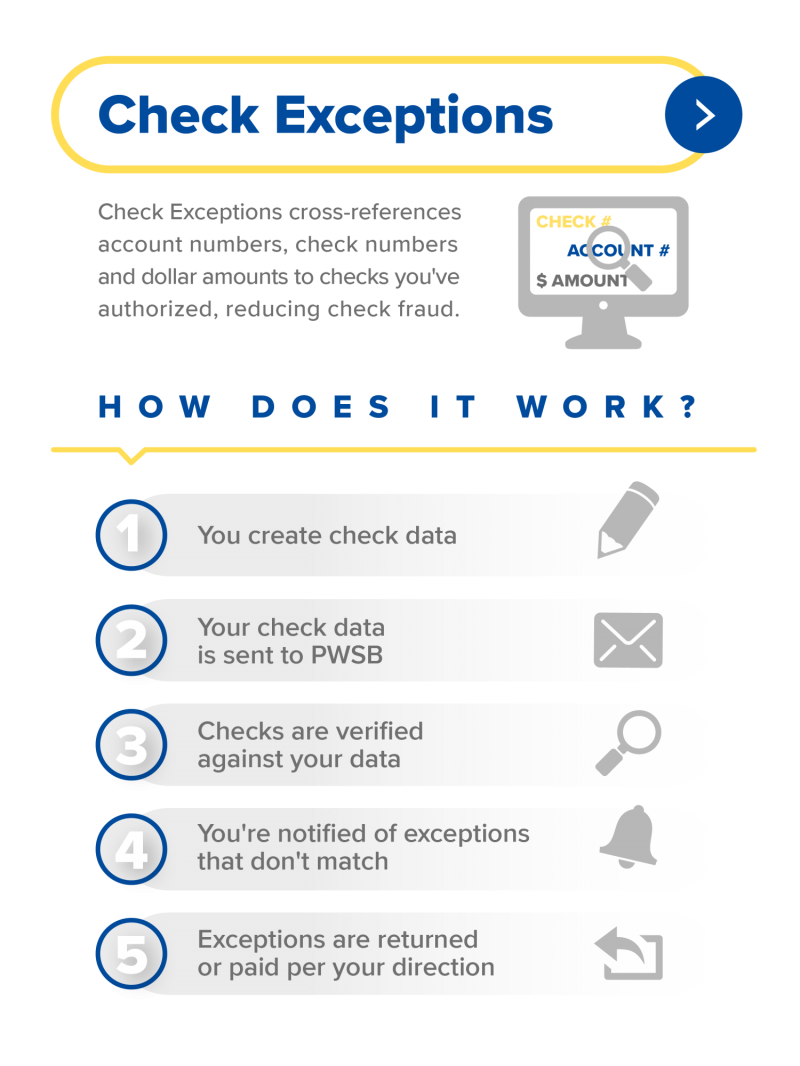 About ACH Blocks & Filters
With ACH Blocks & Filters, you can create "rules" that designate who can withdraw from your account and even what dollar amount they can withdraw before being flagged. Any transaction outside of the rules becomes an exception item. You will then receive notification regarding the exception item(s) and advise us to approve or deny the transaction*. With these rules in place, you'll be an active participant in keeping your accounts safe.
*Note: if exception items are denied, further paperwork is required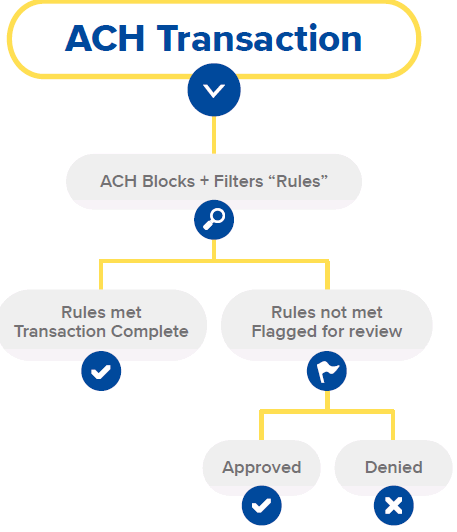 Getting Started
Set up is pretty simple as the service is conducted online. Our business deposit specialist will first go over the terms and conditions of these services. After you've reviewed the agreement, you'll set up a short training session and receive hands-on training on how to upload your data, and how to set rules that can help the system "learn" about your acceptable activity. And we can do this from the comfort of your office, no trip to the bank is necessary!
Once your business is up and running with Positive Pay, you'll control and review all within your PWSB Business Online Banking or your PWSB Business Mobile app. When you have questions or concerns, we're just a click or phone call away.
Ready to fight fraud?
Get Started with Business Fraud Protection
Fill out the form below to get started.