As of July 6:
Added Security for Personal Mobile and Online Banking.
We are pleased to announce an added login security feature that helps guard your personal information by adding another layer of identity verification.
How does the new security feature work?
Starting Wednesday, July 6, 2022, when you log into your Personal Online Banking account through our website or our Mobile Banking app, you will be prompted to set up your verification phone number.
Instead of answering security challenge questions, you will now be asked to enter a passcode if a login attempt was detected to be suspicious or unusual.
The passcode will be sent to the phone number you set up previously, using your preferred delivery method (text message or phone call).
Enter the passcode to complete your login. You'll see a message similar to the screen shot below.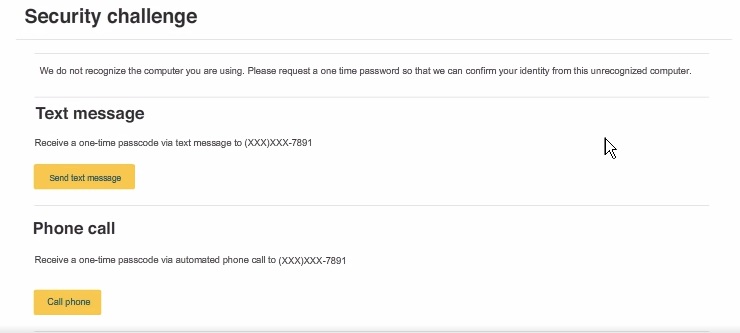 Other FAQs
How do I change or verify the number used for verification?
You must log into to your Online Banking account via our website, and under the profile tab, you can update your phone number(s). Once updated, the info will then transfer to your mobile app.
If you're having trouble or can't access your Online Banking account, please contact us at 262-284-4416 to help you.
Is this required to use mobile or online banking?
For security reasons, yes, this is required.
Keep in mind you will only be asked for a second form of verification if a suspicious or unusual login is detected (such as a login attempt from a different browser, device or location).
The number I've entered doesn't seem to work. What's Wrong?
Check to be sure you're using the 6-digit number in the body of the message (instead of the code the message is sent from).
If you're still having issues, please contact Customer Service at 262-284-4416 for assistance.
Why am I not getting the text I signed up for?
Some potential reasons might be:
Your phone filters unknown texts, and the text is stored in a separate folder.
Your phone number might not be correct (you can contact Customer Service at 262-284-4416 to verify the phone number on file).
You may have opted out of our texts at one point.
Why isn't text an option for me?
If a mobile number is entered in the home number field, it must then be re-entered in the mobile number field as well to enable the texting option.
You can verify if a mobile number is present under the profile tab within your Online Banking account after logging in successfully with a phone call verification.
The bank has my mobile number on file, why is it not showing up here?
This new security enhancement requires you to enter your mobile number.
You will update your own number in Online Banking under the profile tab, whereas your banker will update it on your accounts at the bank for you.
What number is the phone call verification going to come from?
The number will actually appear to come from California and not Port Washington State Bank. It will be a recording.
If concerned about answering a call from an unknown number, we suggest opting to receive a text.
Will security challenge questions go away completely?
While this new feature replaces challenge questions for the login process, there will be some cases where you will still be prompted to answer a challenge question. Some examples:
If you use Face ID when using the PWSB mobile app, the following services will require a challenge question be answered:

External Transfer
Bill Pay
Zelle®

If you are newly enrolling into Personal Online or Mobile Banking.
Can I request the system to prompt for a passcode each time?
Absolutely – if you're interested in this extra layer of security each time you log in, please contact Customer Service at 262-284-4416.
What if I have questions?
We're happy to answer them!
Call or email your favorite personal banker. Our branch phone numbers and emails can be found on our locations pages.
Stop in to chat (we always love seeing our customers!).
You can also click here to use our contact us form.
There's also a helpful video tutorial below.