Pay Confidently Using Samsung Pay®.
It's simple, secure and works almost anywhere you can swipe or tap your card! Samsung Pay makes paying with your phone fast, easy and convenient. Plus it works almost anywhere you can swipe or tap to pay. At samsung.com/us/samsung-pay you'll get more tips, frequently asked questions and helpful information on the other ways you can use Samsung Pay.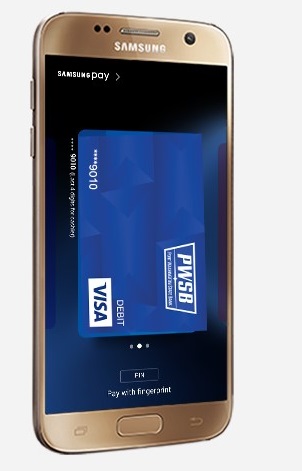 Security Features
Samsung Pay transactions are authorized with your fingerprint, PIN or iris scan. Samsung Knox technology and tokenization add extra layers of security.
Simple to set up. Simple to pay.
To set up Samsung Pay on your phone or watch, visit the Samsung support page for instructions.
To add your PWSB card:
Open Samsung Pay on your phone.
Tap Menu in the top left corner, and then tap Cards.
Tap Add card (blue + card icon), and then tap Add credit/debit card.
Follow the on-screen instructions to register your PWSB card.
Use Samsung Pay
When you're ready to pay for an item in store, open Samsung Pay on your phone. Tap Pay, and select your preferred card. Tap PIN or IRIS and then enter the required security information. If you have fingerprint security set up, simply place your finger on the phone's fingerprint scanner. Next, hold the back of the phone up to the contactless reader.
Visit the help center on Samsung's website to learn more.
Determine if Your Device is Compatible
To learn which models are compatible and what purchases and payments you can use your device to make, check out the Samsung support web page and click the compatibility tab.
Using Samsung Pay
Swipe up from the bottom of your screen to launch the app.
Secure your transaction with fingerprint authentication.
Hover your device close to the card reader, about 1/2 inch over where you'd usually swipe or tap your card.
A gentle vibration will let you know payment is being transmitted, and the card reader or cashier will confirm the payment is complete.
Get the App
Ready to use Samsung Pay?
Help with Samsung Pay
Still have questions?