Proud to make a difference in Ozaukee County.
Grafton, Wis. -- Port Washington State Bank was honored with the Community Stewardship of the Year Award at the Ozaukee Nonprofit Center's 2022 Ozaukee Impact Awards which took place on Thursday, August 25, 2022 at the Ozaukee Nonprofit Center's event hall. The ceremony was emceed by Tom Wachs, local meteorologist with FOX6. The Ozaukee Nonprofit Center presented the awards to recognize and celebrate the individuals, groups, and companies that epitomized the spirit of giving in 2022. This award presentation recognized the community impact these change-makers had made this year.
James Schowalter, President and Chief Operating Officer of PWSB, accepted the award on behalf of more than 140 employees across eight branches. "While I was proud to accept the award, our employees enable us do great things in our community each and every day by serving our customers well and powering our success," James commented.
In conjunction with the award, PWSB received a commendation from US Congressman Glenn Grothman citing PWSB's commitment to Southeastern Wisconsin.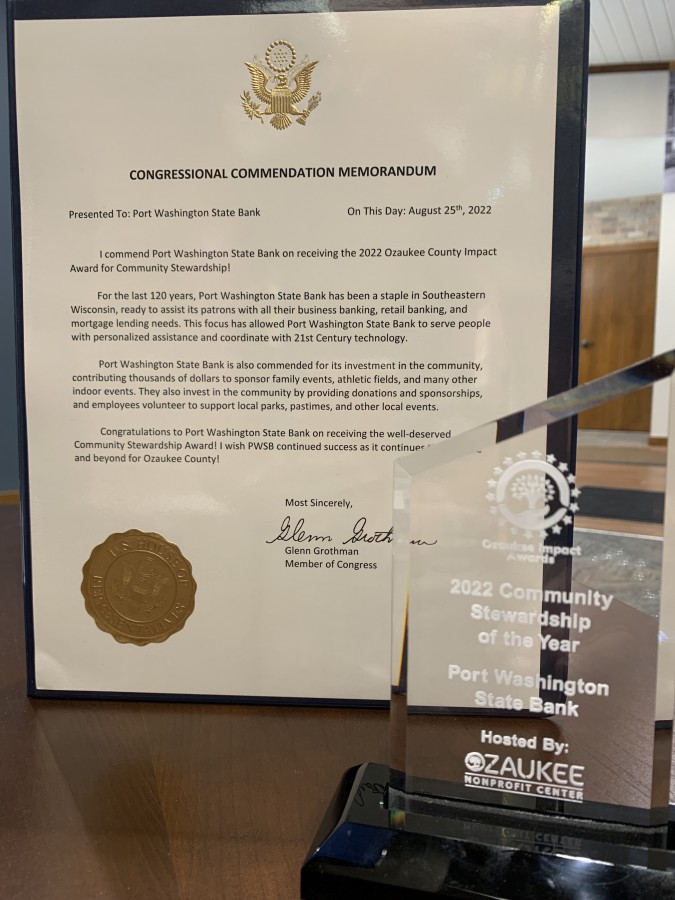 "This was such a wonderful opportunity to recognize the outstanding efforts made by so many volunteers and nonprofits across our county," said Carissa Barnes, Executive Director of the Ozaukee Nonprofit Center. "We live in an amazing area where so many give their time and talents with no expectation of anything in return. It was an honor to showcase these awards winners."
Additional categories and award winners included:
Nonprofit of the Year – Saukville Community Food Pantry
Volunteer of the Year – Linda Vargo
Community Collaboration of the Year – Blossom IDD
For more information regarding the Ozaukee Nonprofit Center, please visit ozaukeenonprofitcenter.org