Convenient New Features
We're excited to share some new features within Business Online Banking that provide added convenience. These updates will take effect on Sunday, October 11, 2020. If you have any questions about the new features, please don't hesitate to contact us!
Navigation Buttons
Business Online Banking now has navigation buttons (that is, Next and Previous) when you view check and deposit ticket images. As a result, you can now use the navigation buttons to view the next or previous check and deposit ticket image. You can access check and deposit ticket images in the Transactions section on the Account information page.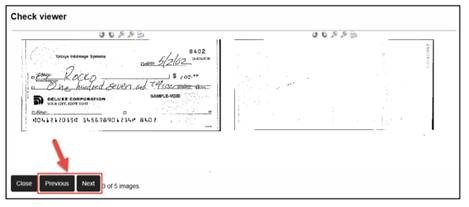 Batch Your Internal Transfers
On the Payments & transfers page, you can now create a batch of internal transfers and submit them at a single time for further processing, instead of submitting multiple individual internal transfers. Additionally, the system displays all of the internal transfers that you added to a batch in the Batch transfers sections.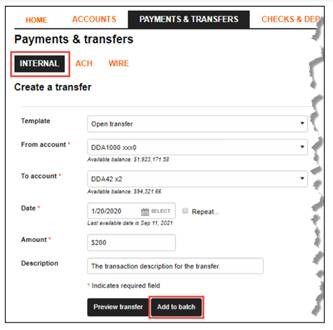 Use the Add to batch button to add an internal transfer to a batch
Add a maximum of 30 internal transfers in a batch
Use the Delete button to delete an Internal Transfer from a batch of internal transfers.
Use the Submit Batch button to submit a batch of internal transfers.
Use the Clear Batch button to clear all the transfers from a batch.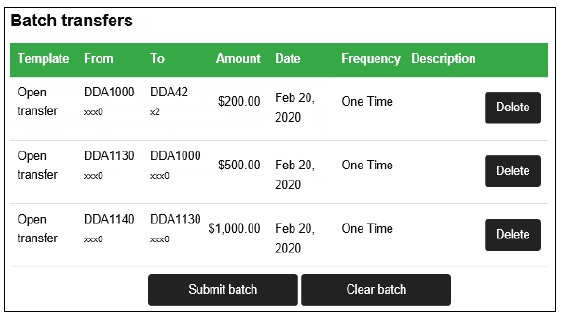 Download Transactions for Multiple Accounts
You can now download transactions for multiple accounts from the:
Accounts > Download Transactions page
Accounts > Summary > Select an account (for example, DDA or SAV) > Download page > Select Switch to multi account download hyperlink