A Friendlier Banking Experience is Coming to Port Washington
PWSB's headquarters in Port Washington is currently undergoing a facelift to make the bank a more comfortable, updated place to serve you. The renovation, being led by The Redmond Company of Waukesha, will conclude seven years of ongoing branch network enhancements to our 8 branches in Ozaukee County. Construction is expected to finish in early 2021.
Drive-Thru Closings in November
As part of our next phase of construction at our Port Washington branch, the drive-thru will be closed periodically during the month of November as we look to upgrade our equipment. We apologize for the temporary inconvenience and we encourage you to visit www.pwsb.bank for updates on when it will reopen, and for other drive-thru options available at other branches.
WHAT TO LOOK FORWARD TO
Planned improvements are numerous, but a few to note inside the building include a more inviting lobby and atrium with new furnishings and color palette throughout. Private personal banker offices will now be located toward the front of the building by Franklin Street, while the teller line will be relocated to the rear of the building, near the parking lot, for efficiency. There is also a fun enhancement planned for a children's area which will include a large interactive LiteZilla display wall (if you ever played with a Lite Brite® as a child, you'll feel nostalgic when you see this display). In response to the current COVID-19 pandemic, the bank is also making enhancements to its heating and ventilation systems that will recirculate and purify airflow within the building.
Outside, the bank is planning to add a walk-up ATM for residents and tourists, as well as modest aesthetic modifications to the drive-thru.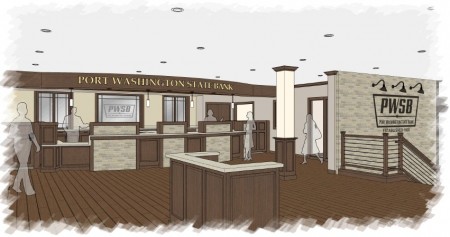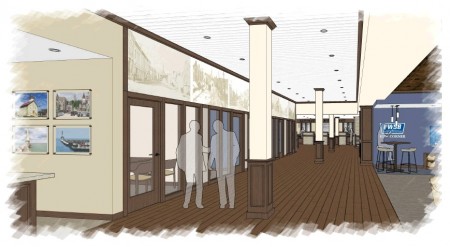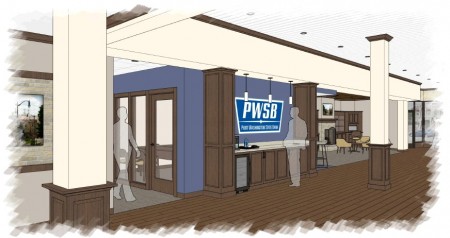 Want a sneak peek?
Watch the video to see our progress!
TIPS FOR VISITING DURING CONSTRUCTION
The retail branch at the headquarters plans to remain operational with minimal interruptions to service. Drive-thru lanes will remain open for much of the remodel, and a temporary teller line has been built within the Wilson House building, also known as the Lakeview Room, located off of Main Street. If you wish to go inside the bank to conduct business, please use the side door labeled "temporary entrance," which is located on Main Street, across from Duluth Trading.
Note that safe deposit boxes remain in place during construction, and you can still access them. For your safety, however, the area is by appointment only between the hours of 2:00-5:00 p.m. Monday through Thursday, 2:00-6:00 p.m. on Friday and 9:00 a.m.-12:00 p.m. on Saturday, when construction activity is low. A hard hat is required (and provided by the bank) to pass through. There is not a viewing room at this time, but a small table is available for sorting while inside the safe deposit area. To schedule a safe deposit box appointment, please call 262-284-4416.
Remember to check this page frequently for updates. And above all, rest assured that PWSB will still deliver the same top-quality customer service that has become a hallmark of doing business with us. Thank you for being a customer; we can't wait to share the new lobby with you soon!